Apartments Renting App
MOBILE APP DESIGN
Introduction
Searching properties for lease, negotiating rental terms and managing relationships between landlords and tenants is quite a troublesome process. There are so many things to consider - finding a touchpoint between requirements of a tenant and a property owner, filling out all forms, rental history checks, signing lease agreements, collecting rent payments, controlling lease expiration dates and so on. Certainly, software applications, and particularly mobile ones, are great helpers in this business.
Apartments renting app prototype
Building apps for property renting is one of our competencies. We have designed and developed quite a few of them for both web and mobile. The scope of our experience in this area includes rental marketplaces and property management systems, applications for renting residential and commercial properties and many more.
Hereby, we'd like to show a prototype of a mobile application for renting apartments created by our UX/UI team. This app reconsiders overall search experience on small screens. Take a closer look:
This application was designed by Igor Shepel and Mikhail Bilenko. They used FramerJS to also create an interactive prototype of the app. You can check it live here.
Another nice idea for a property renting app is to synchronize what the user sees in the list and on the map. As the user goes through the list of available apartments and homes, related pins are dynamically spotlighted on the map.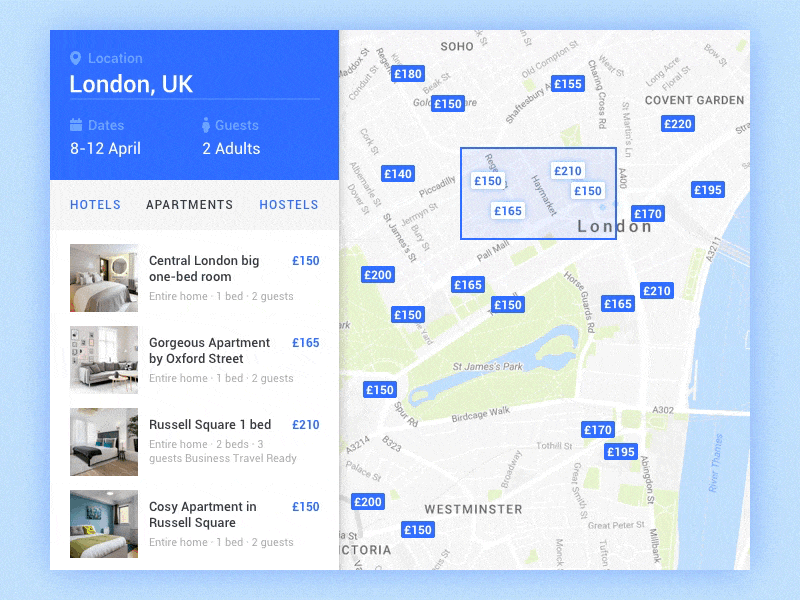 This animated prototype is designed by Alena Syvokobylska.
Finally
Do you have in mind an app idea for a renting business? Our expertise is at your disposal and we are thrilled to hear about your project.
We love sharing our design creations. Follow us on Dribbble see what our UX/UI team is working on.