Wine Shop Cart
MOBILE APP DESIGN
Introduction
The shopping cart is a critical feature for every e-commerce website or mobile app. If you sell something, be it physical items, services or digital products, you have to offer your customers a clean and convenient way to make the purchase. If generic e-commerce shopping carts do not fit the specific esthetic and functional needs of your online store, then it comes to custom shopping cart development.
There's no limit to perfection in creating new custom features and our team keeps trying to invent bespoke shopping cart elements to make buying experience more engaging and optimized.
Wine shop cart prototype
Here is a design implementation of some fresh ideas for adding items inside a shopping cart by using swipe and tap gestures. So, what the user have to do is to select a wine from the list and drag it to right until a desirable number of bottles is added to the shopping cart.
We have created an interactive prototype of this wine shop cart using FramerJS. You can check how it works here. You can even see it in motion: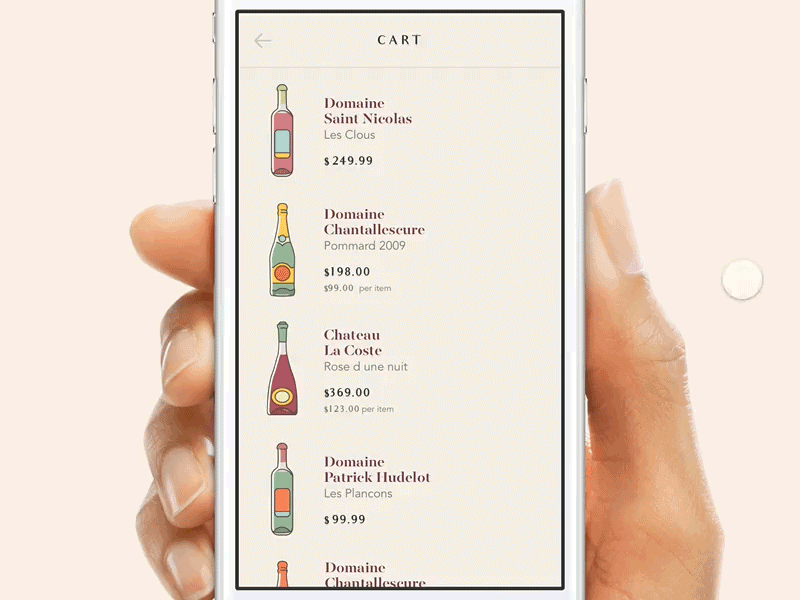 Bottom line
Building up a perfect shopping cart for your online shop is an important task. Convenience and security are the key aspects here. However, users also love fresh ideas, every element may influence their preferences and convince them either to buy or not to buy your product.
We love sharing our findings and works. Follow us on Dribbble to keep up with the latest updates from our UX/UI team.